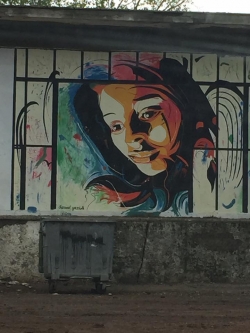 A friend of ours recently spent a few weeks volunteering at Ritsona Camp outside of Athens.  He was kind enough to share his experience:
Suffice it to say the experience was overwhelming and it is difficult to bring back in words or even pictures.
I was on the ground in the camp for two weeks. I had arrived during a period of mild sunny weather and relative calm among the residents and other NGOs (Non-Government Organizations) based upon what I heard from long term volunteers and some of the residents themselves. The camp is located on an old Greek Military base in a rural area about 90 minutes north of Athens. Our NGO, ECHO100 Plus, is responsible for the distribution of food, clothes, water and hygiene items to the residents as well as for general management and operations of the onsite warehouse. There were approximately 4 other NGOs on site with various other respon sibilities along with the UNHCR all attempting to cobble together some semblance of systems and protocols for managing the camp. The NGOs interfaced with the Greek Government, Military and various other international organizations governing refugee welfare globally.
The work was physical and quite taxing with one day off per week. The NGO site manager would detail a running weekly shift schedule for all volunteers. The volunteers were from all over the world and were generally in their twenties. I was amazed at the overall level of physical and emotional commitment by the volunteers who had put their lives on hold to help our fellow humans in desperate need. It was truly inspirational.
The residents themselves left me in awe. Most were young families who had survived the horrors of war in Syria and rescued their children. They are attempting to find a way to start over seeking a place to work, finding education for their children and creating new lives all of which had been ripped from them. Many made it across Turkey and the Aegean Sea with little or nothing and were trying to manage some semblance of temporary life in the tents while awaiting asylum to another EU country. Destination and timeframe unknown. Above all, they left me with the impression of being the most gracious and giving group of people, particularly under the circumstances. I kept thinking that this easily could be us.
The experience provided a fresh perspective about our daily lives here. It was also quite addictive. The feeling of the strength of the human spirit makes one want to continue to do the volunteer work over and over.