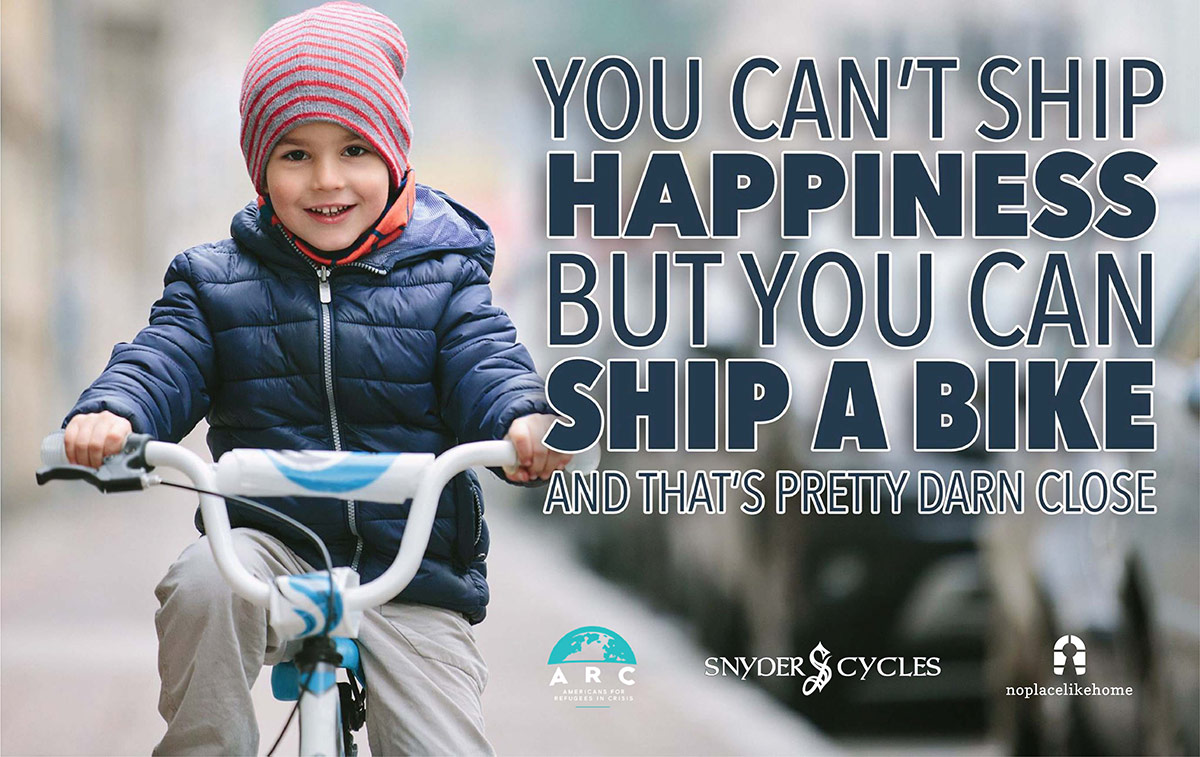 Help us ship bikes to refugees in Turkey!
When our partner organization Americans for Refugees in Crisis (ARC) asked us if we would raise funds to ship bikes for their project, we were like, "Yasss! Where do we sign up!?!"  Ok, maybe that isn't exactly what we said, but we were pumped (bike pun definitely intended).
Donate to ship a bike here.
Why Bikes?
Two of our founders are active in the local cycling community, so we were naturally drawn to the project.  But, we had also asked a refugee friend last summer, "What do you need the most?" He said, "Don't worry about me, but the kids…They need bikes."
After visiting the camps, we realized just how right he was. Of course, transportation is important, but it goes a lot deeper than that.  Many adults in this situation are disabled or unable to find work, and kids often can't go to school.  The boredom and inactivity that ensues can deepen any trauma, allowing depression and PTSD to take over.  Bikes provide utility, freedom, escape, and exercise.
To the kids we met living in camps, a bike is the ultimate possession, even if its completely ragged out, missing the seat, and shared between twenty kids. On top of all that, we're including bike tools and parts for anyone who wants to learn bike repair for income.  That takes us back to one of our cornerstones, which is getting people back to supporting themselves like they did before the war.
Visit it our Atlanta partner,

Snyder Cycles

.
Why Turkey?
So, one of the cool things about ARC is that they work with organizations in densely populated, poor areas that fall somewhat under the humanitarian response radar. For this project, the focus is an area between Adana and Gaziantep hosting about 500,000 refugees.  As you can see on the map, that's not a big area.
Most refugees stay as close to home as possible, hoping to go back one day. Those who seek refuge further away do so because they've realized there's simply no room left at the inn. Turkey is host to almost 3 million registered refugees, including more than half of Syria's estimated 4.8 million.  Seventy percent of them live outside the camps, leaving them largely unsupported.
We read and hear about "Europe's Refugee Crisis" all the time, but while Europe hosts about 6% of the world's refugees, 39% of refugees have found shelter in the Middle East and Northern Africa. Our programs in Greece will continue as usual, but we're happy for the opportunity to help this population as well.
The Cliff Notes
ARC is collecting 500 kid and adult bikes in the Boston area. Here are the drop-off locations:
You can also purchase bikes and safety accessories from our Amazon wish list and ship directly to ARC in Boston.
No Place Like Home is raising the funds for the shipping. Donate funds here. It only takes $10 to ship a bike.