Originally from February 15, 2016
Mytilene, Lesvos, Greece – Today, we started out at Moria, the main registration camp for orientation at 8:45 AM.  As we got out of the car, all we could see from the road was a massive concrete retaining wall topped by a tall chain link fence and barbed wire. It looked more like a fort than a "camp." Just outside the gate, there was a cluster of food trucks and vendors selling a variety of fast food and essential items like sim cards, tents, and bags.  It felt like a cross between a military base and a music festival; no joke.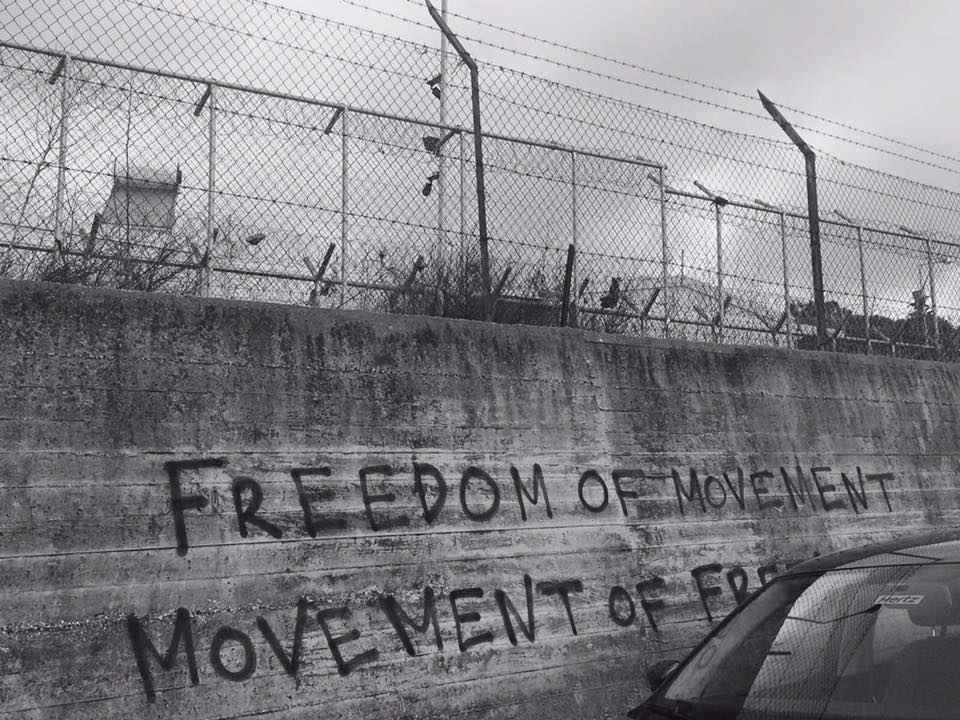 I noticed some graffiti that I had seen many times in photos.  Seeing it now in person was surreal.  It says things like "Freedom of Movement, Movement of Freedom" and "No one is illegal."  I wondered how many of the people who have passed through Moria made it to their intended destination.  How many are still somewhere along the Western Balkan route, trying to reach Germany?  It was still sinking in that this place was real, that this crisis actually IS happening right here in the European Union, in the year 2016.
We met our team lead, got our badges, and we were in.  We got a tour and learned that we would be helping with the "Family Housing Units" – 60 or so metal huts where families that meet certain criteria can sleep for the night.  Due to a recent lull in boat landings, the camp was nearly empty today.  The only refugee we actually met was a little boy in rain boots and a bomber jacket.  He was pushing a broken scooter around, looking for someone to play with.  We learned that his family is from Morocco, and they haven't been able to register.  Otherwise, they would've moved on to Athens to continue their journey along with everyone else.
The cause for the huge reduction in boat landings remains somewhat unclear.  It could be because Frontex (the European Union's border control police) and the Greek Coast Guard have started picking up boats when they enter Greek waters.  Or, it could be because there is a politician visiting the island this week. To top that off, news outlets say that NATO ships are en route to the Aegean and could be here any day.  But, nobody seems to know exactly what they'll do when they get here.  There's another important factor at play here, though.  It's the weather.  The water has been too rough, but it's supposed to clear soon.  So, I'm thinking the next few days could be a much different story than today was.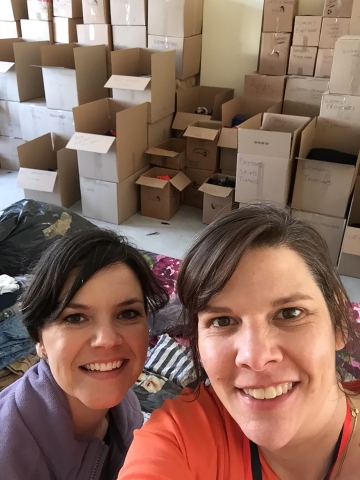 Since there wasn't much work to do at the camp, we headed to the warehouse.  Our team sorted and packed about 60 bags of donations (not too shabby!).  Warehouse work definitely isn't what they call "the glammy work," but without it, donations wouldn't make it to their intended recipients.  So, all in all, we had a successful first day.
Good night from the little cottage in the olive grove.  #peace and #safepassage to all.
-Nicole