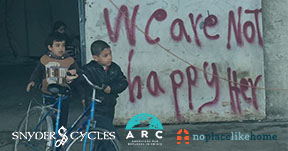 Event Overview:
We're teaming up with local bike shops in Atlanta and Boston to ship 500 bikes to refugees in Turkey. Some adults need a way to get to work, and some will also be sent to children.
Admission and Registration:
It only costs $10 to ship 1 bike, so help us out, and Give a Ship. Find out more at https://noplacelikehome.org/ridesforrefugees. 
or Give a Ship right here